A tip to increase the revenue of your radio station
Companies split their advertising budget across two types of media: digital media (web, social network campaigns, etc.) and traditional media.
In short words:
advertising campaigns on digital media are sold, measured and billed mainly on the basis of the profile and the exact number of consumers reached by the message; the advertiser pays for the service exactly for what has been delivered and consumed
advertising campaigns on traditional media are sold with rates based on audience figures estimated with surveys and it is not possible to accurately measure the quality and quantity of consumers reached by the message; the advertiser pays for the service as previously agreed, regardless of the consumers actually reached.
It therefore happens that some companies, in order not to risk wasting money, prefere digital advertising, where they pay only what has been delivered and consumed.
Radio, on the other hand, is part of traditional media and with FM broadcasting it can only acquire the budgets that its customers allocate to traditional media. It would seem forced to leave the most important part of the money that companies spend on advertising to new "digital" competitors.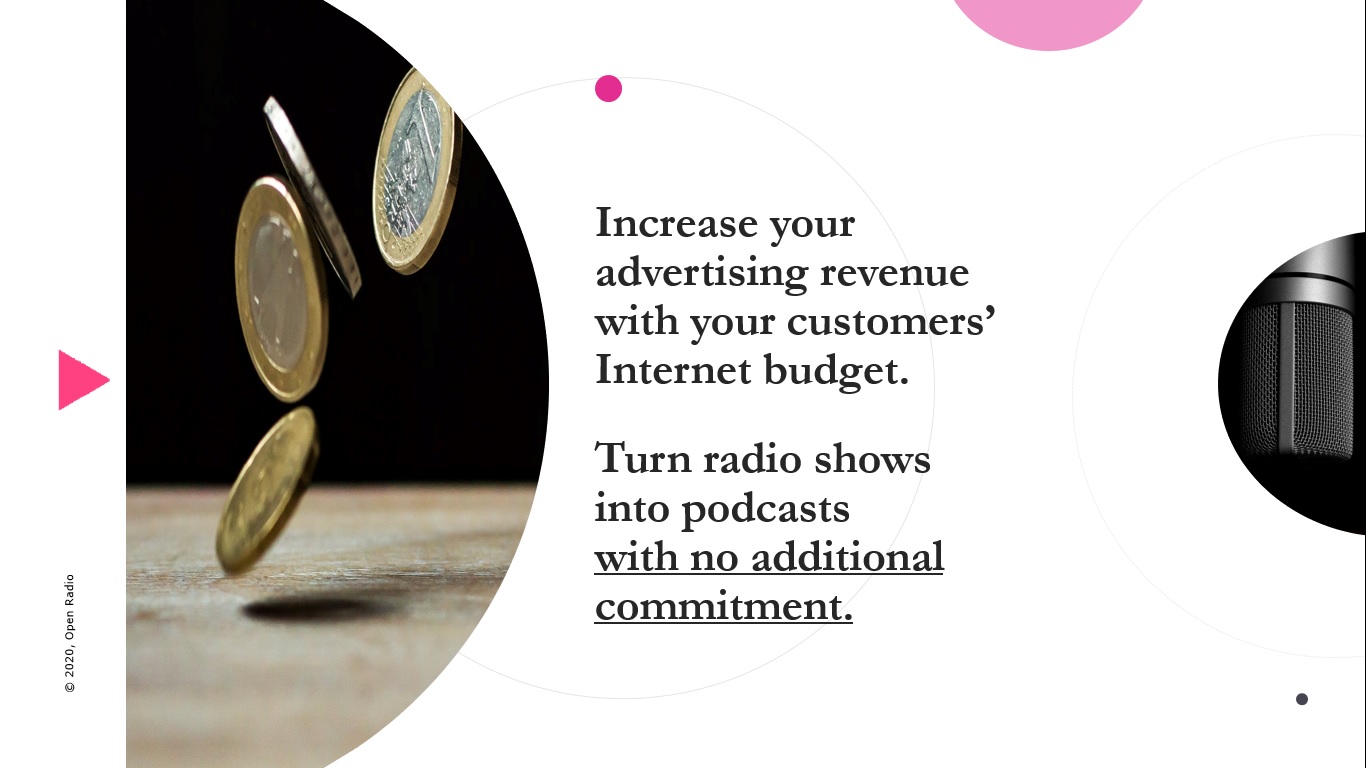 A new opportunity for radio
The advertising budget invested in traditional media have progressively reduced in favor of investments in digital communication. In many countries, it was mainly the printed paper that paid the price. Radio has often held up well, indeed – outside the Covid19 emergency – it has maintained a growth trend for several years, thanks to its features that make it complementary to the web and social networks. But it can further increase its revenues by capitalizing on the growing audience of digital audio services such as podcasts.
Radio could thus increase its revenues:
with active customers, also taking part of the budget they allocate to digital media
with customers that radio currently cannot have – those customers who have chosen not to use traditional media at all -, offering new digital communication services and finally signing advertising contracts with them too.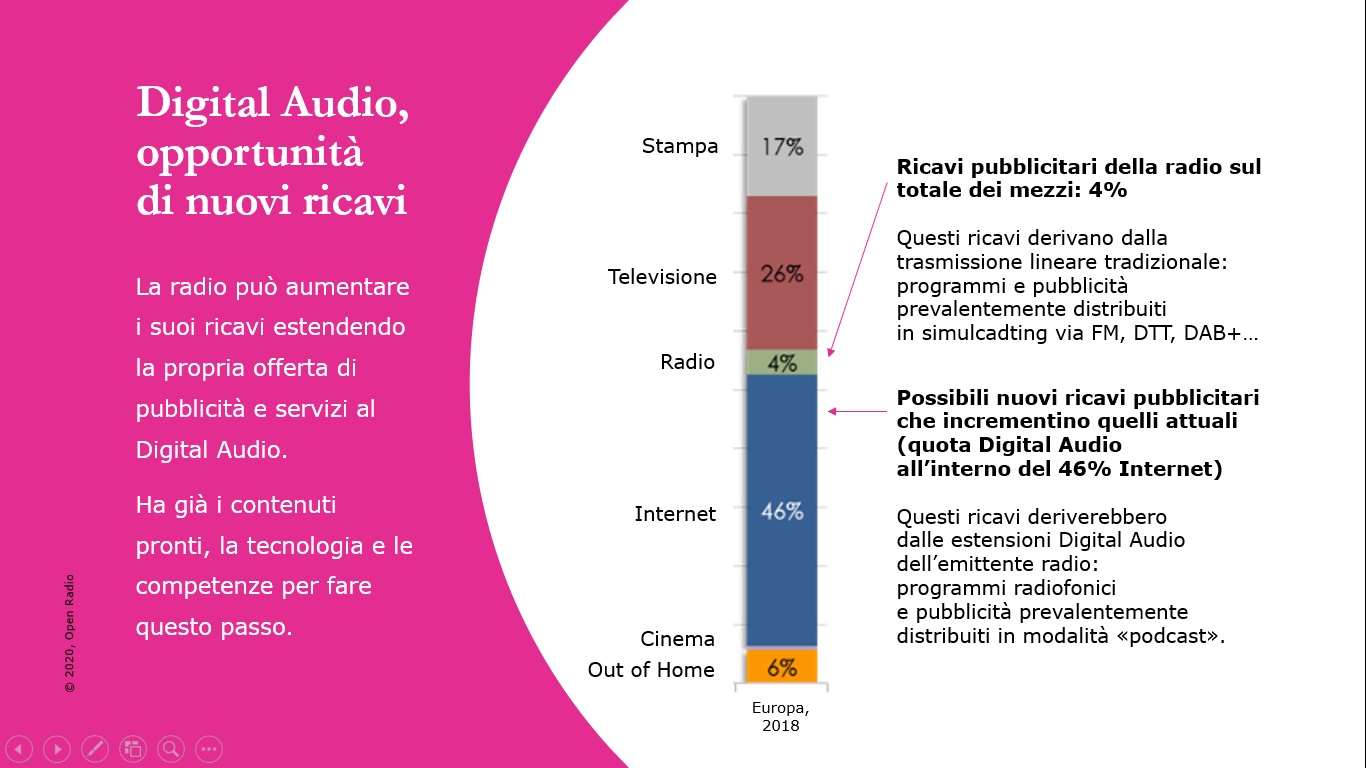 But… how can an "analog" radio station sell digital services and report their audience according to the metrics required for digital media planning?
First step: start with existing content
The radio station already has a lot of content ready to be distributed also on demand and with a multi-platform strategy, thus creating a "digital" audience alongside the loyal FM one.
A local radio that broadcasts radio news and insights, in particular, already has exclusive content that can compete on all platforms alongside the original podcasts. Local content, in fact, is thematic content and the winning strategy in the industry of podcasting is precisely the production of thematic or "vertical" content. In addition, the news programs are spoken content without music, so they can be distributed online without any royalty costs.
Radio stations can add commercials to programs distributed as podcasts after broadcasting them on FM. They can sell these spots to their clients as digital advertising, acquiring the budget they allocate to digital media, and finally breaking out of the narrow limits of traditional media.
New distribution channels
Podcast aggregators are very popular. Spotify, the leading app in many countries for listening to music on demand, has a podcast section where you can publish your podcasts for free. The same goes for numerous other aggregators and platforms, including the Apple Podcasts app, on iPhones and Apple devices. Some broadcasters have chosen to join Radioplayer, an aggregator under the control of the publishers themselves and this also allows listening to podcasts.
Being present with the brand and the contents of your radio station on the most important aggregators and platforms allows you to bring your contents to most devices and also to engage a new "digital native" audience, which in many cases is not used to looking for them on traditional radio.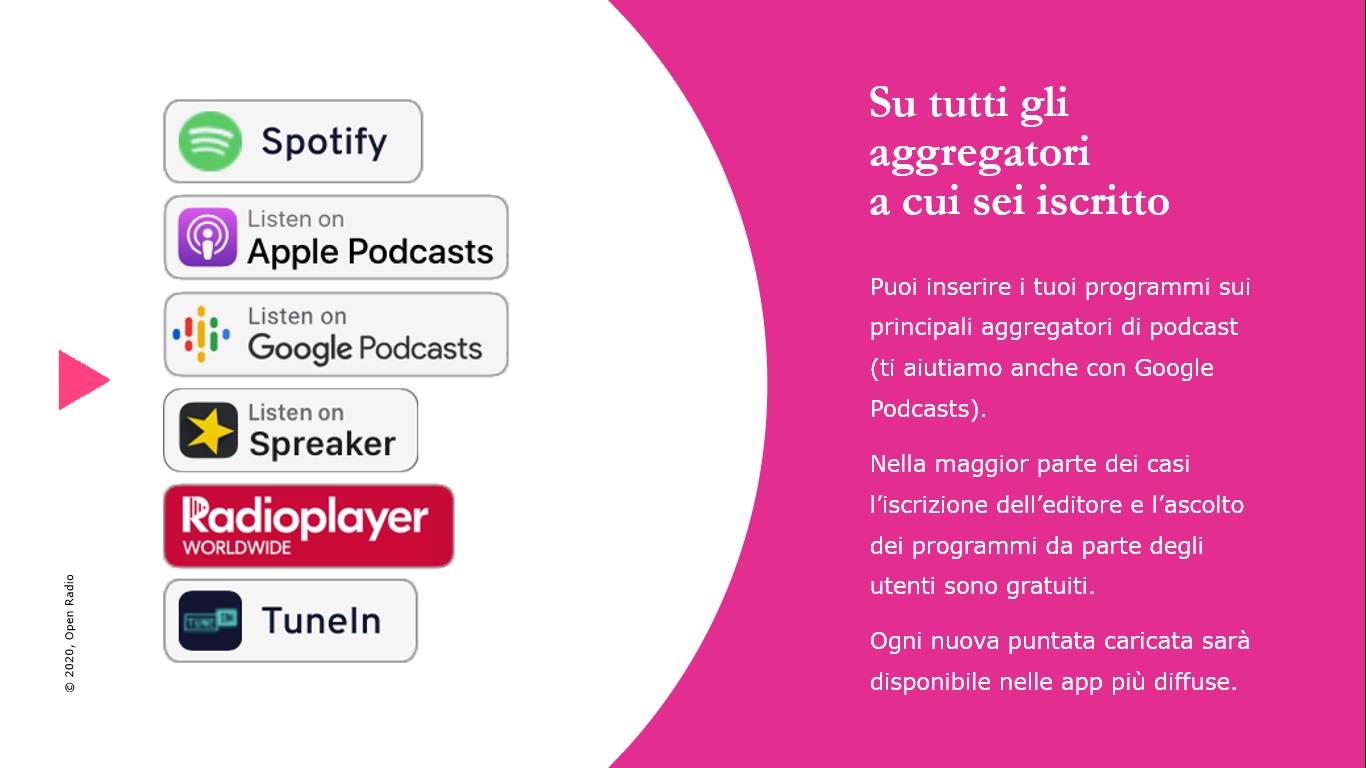 Of course, the publisher has an interest in publishing its content on its properties as well, such as its website, app and applications for voice assistants. They are all touchpoints to which even the already loyal listener on the FM radio refers. There, he finds the added value of listening to his favorite programs when he has the possibility, without the fixed times of the radio schedule.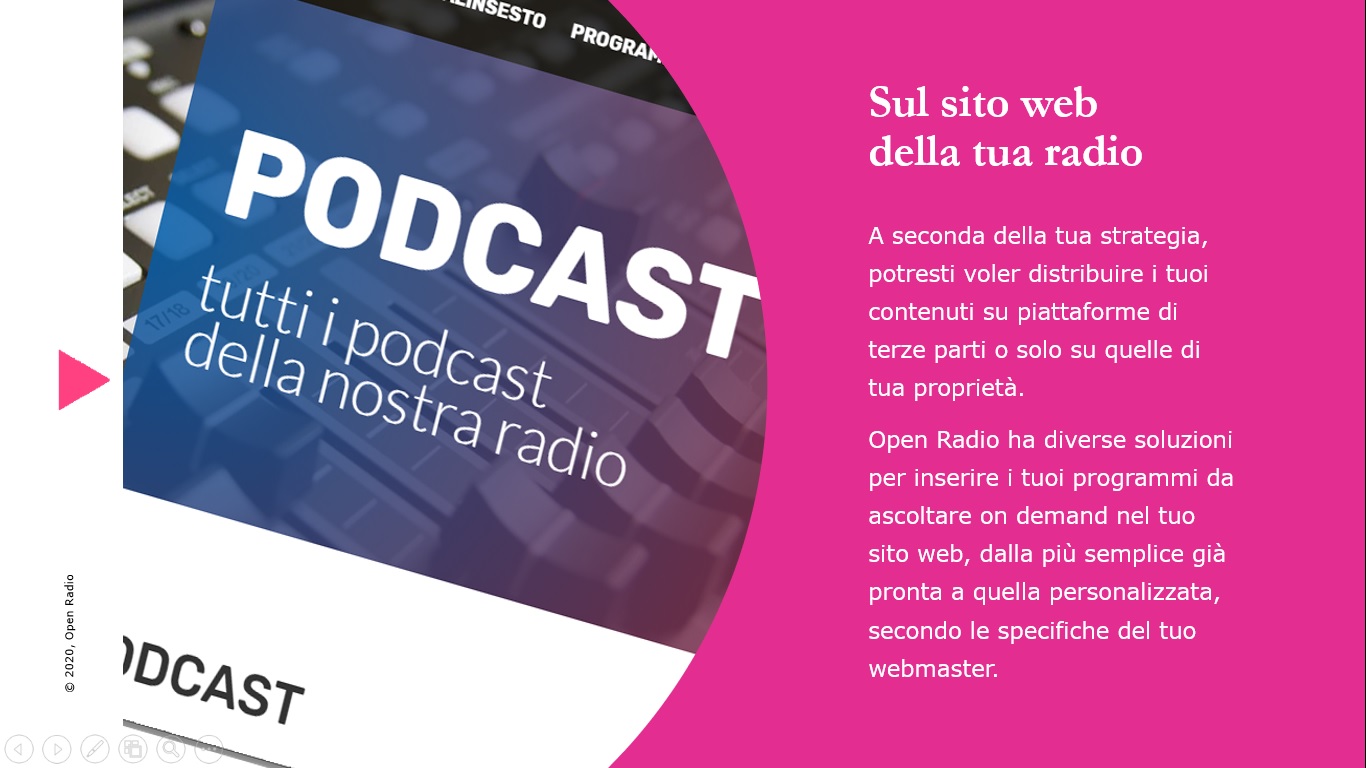 The local radio station, by measuring the audience of its podcasts and commercials on all platforms, has a first cumulative data with some details that it can use to sell and report commercials according to the metrics of digital communication. Customers can thus pay for the service in proportion to what has been delivered, just as they are used to when they buy banners in online newspapers or other types of campaigns on social networks. They will therefore be encouraged to allocate part of their budget for digital media to radio.
Low-cost solution for digital debut
To start competing on the market with a digital advertising offer, the radio station must however be able to publish the podcasts without additional work in the newsroom, otherwise – while waiting for digital advertising revenues to become large – it would lose money.
Automation is therefore of great help. With Open Radio M-Caster service, all radio newscasts and programs that the publisher wishes to record from live broadcast and distribute as podcasts will be published on the chosen aggregators and platforms, without any human intervention.
The programs will in fact be recorded during their live transmission, automatically, by all broadcasting software equipped with an automatic recorder (they are most of the contemporary ones), or with the Open Radio Auto Recorder, which has advanced functions for skipping the recording of certain elements of the schedule, such as songs or advertising blocks, or with the Open Radio Auto Uploader, useful when the editing routine includes pre-recorded programs. In all cases, if necessary by combining these solutions, the audio files of the episodes will be automatically sent to the Open Radio server equipped with the M-Caster Pro software and then sent to the listening platforms.
Open Radio, aside, also develops and supplies custom software for voice assistants (Skills for Alexa and Actions for Google), with which listeners can request to listen to programs and podcasts by asking a question in their voice, and apps for Amazon Fire TV, which allow you to listen to live radio or podcasts enriched with graphics, images, texts and banners, synchronous or asynchronous with respect to what is listening.
But not only that: journalists already have raw audio contributions which, if properly edited, can feed original podcasts, different from content broadcast on FM, with an added value for the listener. For example, the full version of the interviews that were summarized in the FM program. The listener will therefore be motivated to do additional listening sessions, other than those in FM.
The Open Radio software, when publishing podcasts, will also automatically add the spots that have been programmed by the traffic office at the top and end of each episode, rotating more subjects if any.
A IAB certified external measurement system will produce the reports on the downloads, so the sales department will have new services available – the digital audio spots – thanks to which it will be able to sign new contracts with customers, finally accessing the important share of the budget that they allocate to digital media.
As the audience, traffic and digital services in general grow, it will also be possible to connect an external Audio AD Server for addressing targeted spots to listeners and get extremely accurate audience measurement and financial reporting.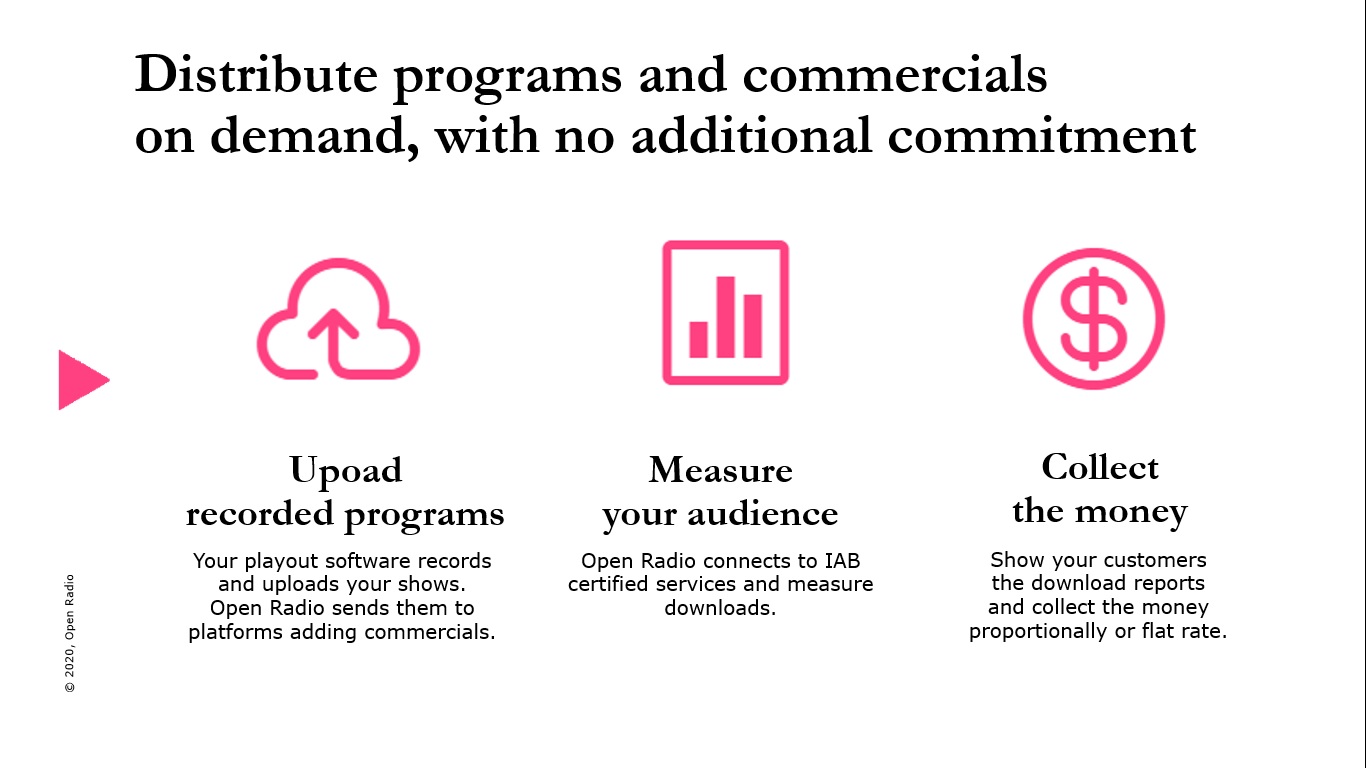 The local radio station is therefore repositioning itself as the audio information service of its market, making the most of the skills and relationships acquired over decades of service, including institutional ones, to generate new economic revenues.
In this key, the local radio can also propose for the production of original podcasts to local companies and institutions. Podcasts would be published with the brands of the companies, with the advantage – compared to digital native companies – that radio is able to promote them in the community not only through social networks, but also on FM, engaging a large part of the population.
The Open Radio ecosystem helps you
From the service design to the supply of the technical platform, with the support of editorial, technical and commercial specialists, Open Radio is ready to accompany publishers in their digital transformation by including audio as a core asset.
An ecosystem that unites platform, people, partners and customers is at work with a portfolio of already completed cases, different in terms of objectives, size and category: radio broadcasters and their customers, native podcasters, news agencies, online newspapers, infomobility services , creative agencies, exhibitions.
M-Caster
Automated podcast delivery
Skills and Actions
Software for Alexa and Google Assistant.
Publishers' property
Radio broadcaster website, affiliated online newspapers.
Smart speakers
Amazon Echo series, Google Home, Nest etc.
Smartphones, tablets and more
Devices with Alexa e Google Assistant.
Podcast aggregators
Spotify, Apple Podcasts, Google Podcasts, TuneIn, Stitcher and more.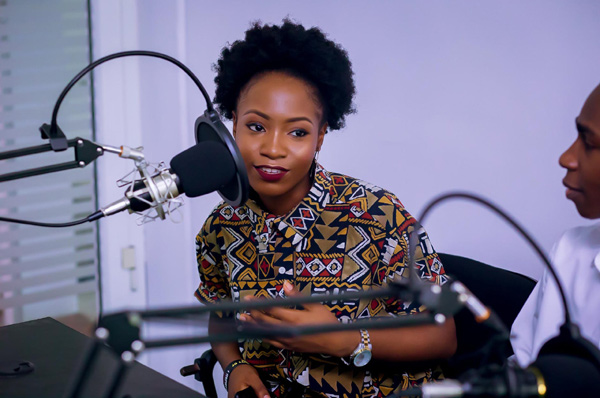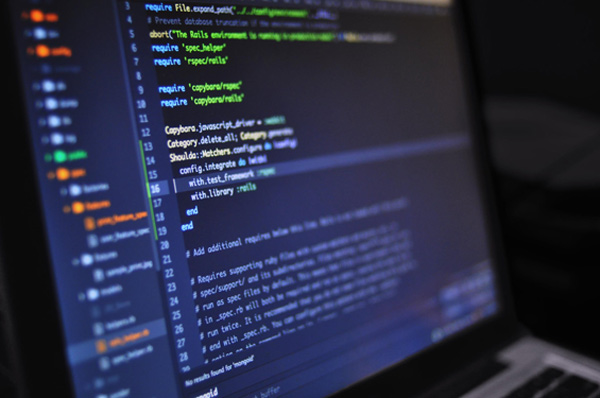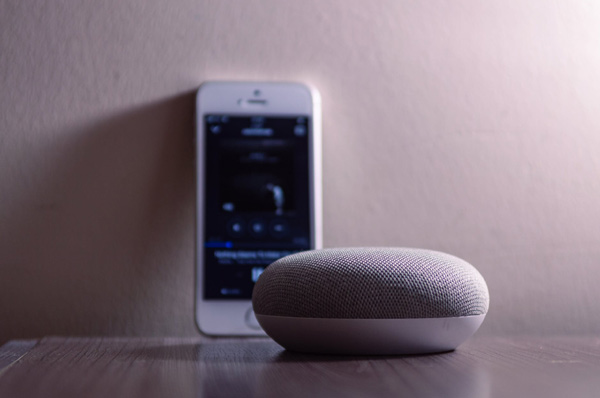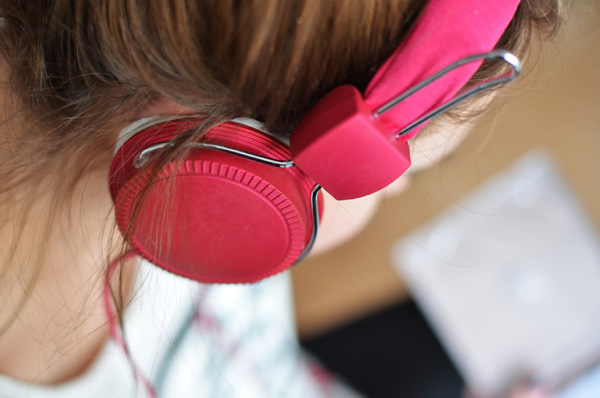 Increase the revenue of your station!
Open Radio,
digital audio ecosystem.
With the human touch.
Open Radio,
digital audio ecosystem.
With the
human touch.
Platform
Artificial intelligence and software for digital audio.
Partners
Service providers integrated in platform.
People
Editorial, technical and commercial skills.
Customers
Traditional and digital publishers, agencies and companies.
Associazione Radio 2.0
P.IVA: 03852720162

Associazione Radio 2.0
VAT: 03852720162
Associazione Radio 2.0
VAT: 03852720162

Associazione Radio 2.0
VAT: 03852720162
Associazione Radio 2.0
VAT: 03852720162