Vibra FM… vibrations in digital audio!
Vibra FM is a radio station of the Klasseuno group that broadcasts on FM in Veneto (north-east of Italy) and has an international music format. It has a smart production department and uses the most innovative technology and the talent of some specialists to produce the music flow and present the shows.
Simone Baldo, Station Manager, describes it this way: «The name Vibra FM already speaks for itself: a vibrant, positive, warm and unique radio station. Vibra FM is the first station specializing in urban rhythms: mainly reggaeton and electrolatino, without forgetting the notes of pop, hip hop, r & b and the many influences that in recent years have also influenced Italian music itself».
The specific format of Vibra FM is coherently positioned in the local market and is complementary to the offer of the other broadcasters of the publishing group, including Birikina, Bellla&Monella and Piterpan, but also has a marketable positioning on a national scale and beyond. Listeners via the Internet testify to this, coming from various Italian and foreign regions.
Vibra FM opens up to digital audio
«Vibra FM has chosen to make its shows available on demand both on the vibrafm.it website and on some aggregators, first of all on Radioplayer Italia – continues Baldo –. In addition, it made its debut on Google Assistant with the "Vibra FM" Action in italian language, which allows you to listen to live radio and on-demand programs on Google smart speakers (Home, Mini, Nest Hub, etc.) and on devices with Assistant software, such as Android smartphones where it is factory installed ».
Technically, the playout software, Zetta by RCS, is programmed to automatically publish radio programs to files as soon as they are finished in FM. Vibra FM shows are produced in advance, they are not presented live, and are made up of various items (eg songs, voice-tracks, jingles) that Zetta alternates with other elements following the schedule (eg advertising breaks, station promos, etc.).
Unlike many radio stations that record programs with a recorder in the backgound while they go on the air, to turn them into podcasts, in the case of Vibra FM the particular functions "Show" and "Publish" of Zetta are used, which basically make a "mix down" of all and only the elements selected in the schedule (music, voice track, etc.). In this way, you can easily exclude the elements that are not useful for listening on demand. You get a single audio file with a recording that contains just the elements you have selected in the schedule, with all mix points exactly as set for live broadcast.
Once the audio file has been produced automatically, the software uploads it via FTP to the Open Radio server, where M-Caster Pro in turn generates descriptive texts dynamically and publishes it on the distribution platforms chosen by the publisher.
In particular, a plugin for WordPress was used for the Vibra FM site, which was configured with the corporate colors and allows you to view the latest episodes broadcast of each program in a harmonious and automatic way and to listen to them.
The Google Action of Vibra FM created by Open Radio has a simplified user experience, which allows you to quickly reach the desired content: live radio or catch-up of a show, if you already know the title. Otherwise you can ask for help and have an explanation of the possible actions and the list of available shows. In particular, for those long programs that are published in several parts, a special function allows the user to choose the part of each episode they want to hear.
Open Radio's M-Caster, which is the basis of the entire audio on demand distribution system, is ready for the automatic insertion of any advertising spots in preroll and postroll on each episode and, through an external IAB certified service, allows to measure the downloads of published programs with quantitative data and with some qualitative information.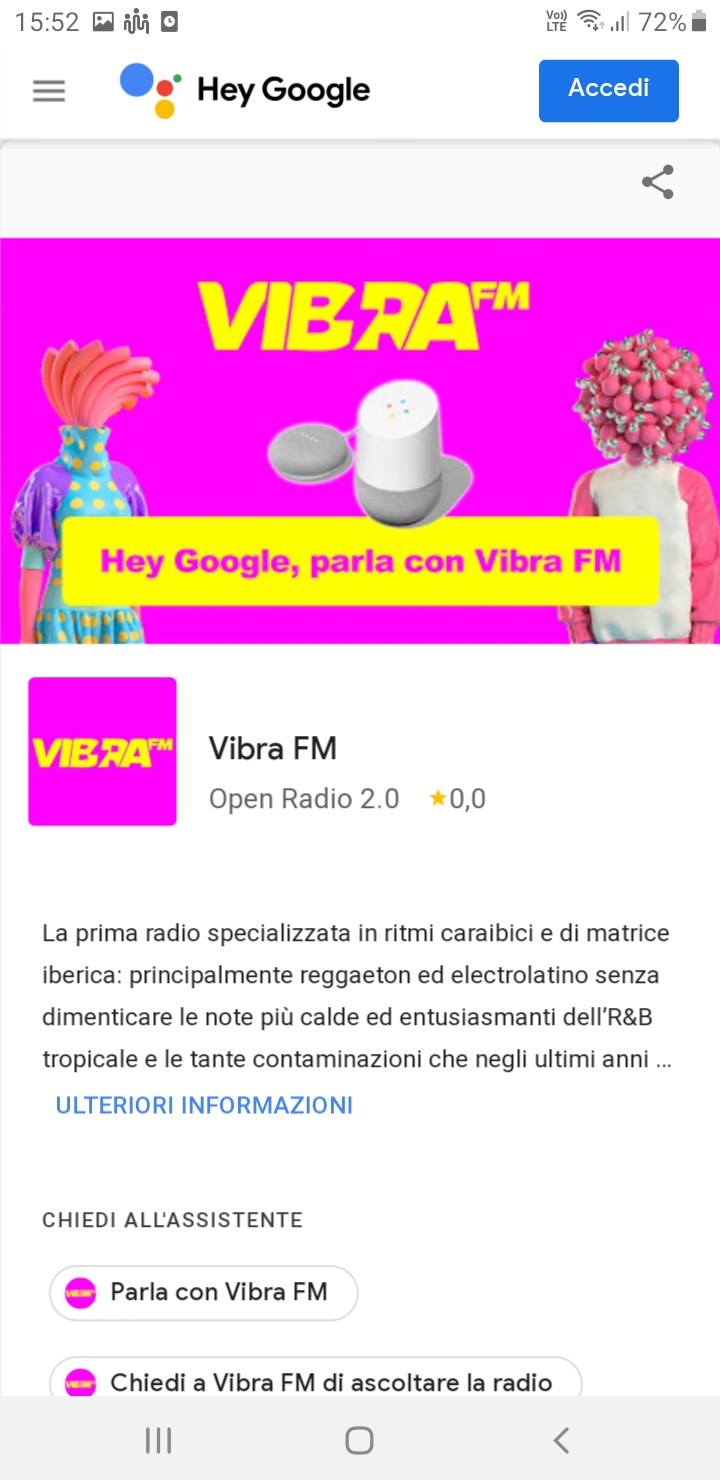 M-Caster
Automated podcast delivery
Actions
Software for Google Assistant.
Publisher's property
Vibrafm.it website, Vibra FM in Radioplayer Italia.
Smart speakers
Amazon Echo series, Google Home, Nest etc.
Smartphones, tablets and more
Devices with Alexa e Google Assistant.
Podcast aggregators
Spotify, Apple Podcasts, Google Podcasts, TuneIn, Stitcher and more.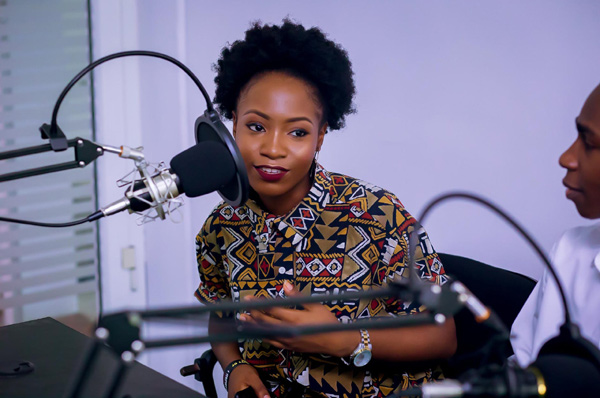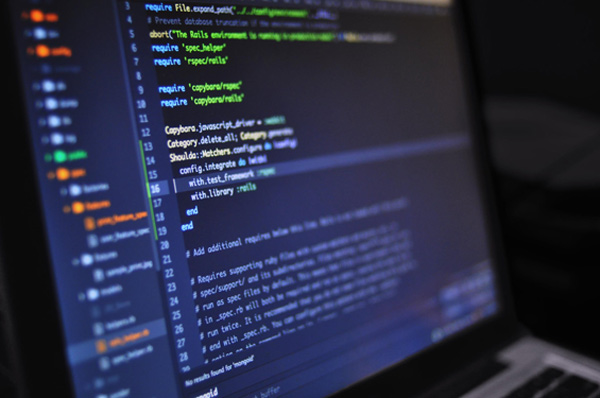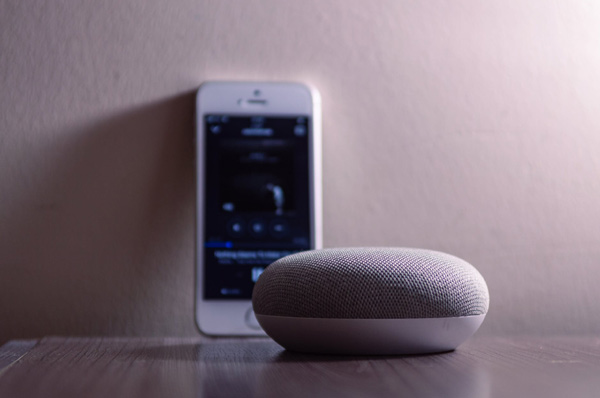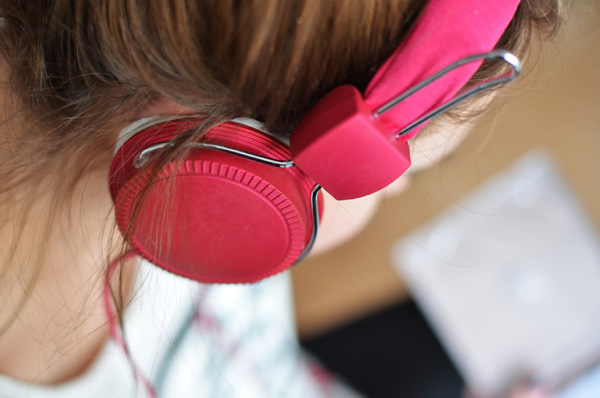 Increase the potential of your station!
Open Radio,
digital audio ecosystem.
With the human touch.
Open Radio,
digital audio ecosystem.
With the
human touch.
Platform
Artificial intelligence and software for digital audio.
Partners
Service providers integrated in platform.
People
Editorial, technical and commercial skills.
Customers
Traditional and digital publishers, agencies and companies.
Associazione Radio 2.0
P.IVA: 03852720162